Meghan Browne, ATC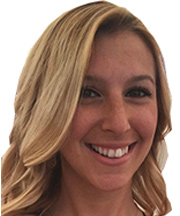 Meghan Browne, ATC has been working with Dr. Paci for over four years in the clinic setting. She provides patient care alongside of him and his physician assistant, Angelo Rizzi, PAC. Meghan helps to facilitate patient flow as well as answer patient questions and acts as the liaison between the physician and the patient.
Miss Browne has been an athletic trainer since 2013, when she graduated with a Bachelor's of Science in Athletic Training from West Chester University of Pennsylvania. Her background as a high level competitive gymnast helped to shape her interest in sports medicine from a young age. She has since moved to a supervisor position and her future aspirations include practice management.
Meghan lives on the south shore of Long Island with her fiance, Mike. She is an avid gym-goer and runner and recently moved onto triathlon training. She just competed in her first Ironman race.