Patient Testimonials
Share Your Story
Paci is the man. My shoulder was really messed up, had to have a ton of anchors put in. I ended up having 0 pain! I was waiting for the pain to kick in because I've heard stories on how rough shoulder surgery could be. Paci is also really easy to talk to, explains everything and gives accurate timeline. 10/10 would recommend everyone to go to Paci!

Connor B

Dr. Paci is the best! My daughter injured her knee wrestling, didn't know who to go to initially, so took her to a very highly recommended orthopedic surgeon who sent her for MRI. The readings came back with a torn ACL and meniscus, doc said surgery and a 9 month recovery. Fortunately, a friend of mine said you have to see Dr. Paci. Dr. Paci had me bring the MRI disk to view the images for himself. After looking at the images and examining my daughters knee he said no tear of her ACL or meniscus, just a sprain of her MCL.. Dr. Paci sent her to Lewis for PT who had her back wrestling 3 months later. Dr. Paci is the best! highly recommend him. Very honest and straightforward.

Ted Zucker

Having a lot of experience with orthopedic surgeons, Dr Paci was my first and only choice for my surgery. He was thorough, thoughtful, and gave me the best possible outcome I could have had.

I feel better today then I have in years, and it is because of the skill of Dr Paci.

Dr Paci is THE MAN!

Chris G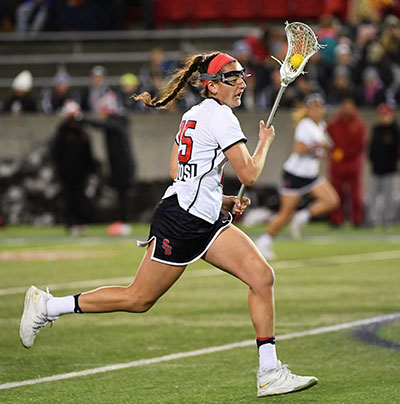 Dr. Paci - Thank you for the success that I have had regarding my ACL repair all the way back in 2013.
The other day while on a run, I was thinking about my knee. I just really wanted to thank you because it has been 7 years since you fixed my ACL and I feel so lucky to have had the success that I did with it. You know more than anyone how often this injury occurs in female athletes. I still find myself having conversations with players and people who have had many surgeries and different complications that unfortunately lead them to never get back 100% in the injured knee. I am SO thankful for all that you have done even 7 years later and I just wanted to let you know grateful I am to you and all the others involved.
Photo Credit to: Kathleen Van Dyke
Brooke Gubitosi 7/7/2020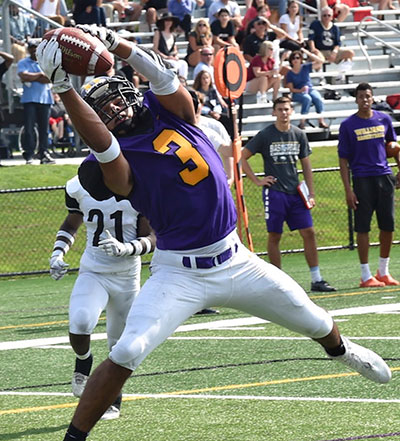 Scoring a TD for Williams vs Bowdoin 9/16/17
Frankie Stola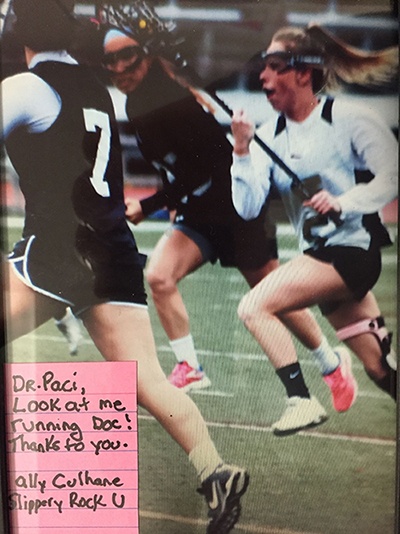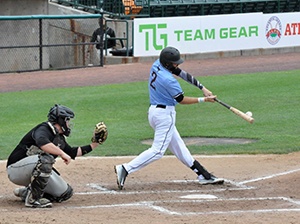 Shawn came to dr paci with a dislocated shoulder to find out that he had done a lot of damage to his shoulder a torn labrum and had put a dent in his ball joint and would need surgery to fix it, dr paci told us that shawn may never swing the bat the same way and as a baseball player ( short stop ) that was the worst news. After dr paci's surgery and Shawn doing PT for many months I am glad to say that it all worked and shawn is back to playing and swing the bat like he was before the surgery. Thank you Dr Paci for everything you did for my son shawn.
Patty blasberg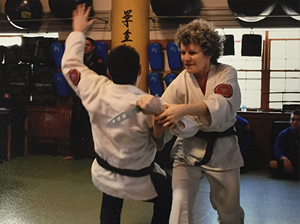 To Dr. Paci: Finally got my Black Belt in Jiu-Jitsu!. As you can see, my left knee works pretty well! Thanks.
Wendy Pollack (62 years old)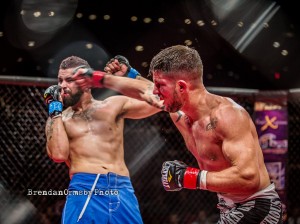 Thank you Dr. Paci for the excellent repair on my left bicep. I was back training in 8 weeks, and my arm feels great. Great Surgeon and really nice guy; easy to talk to. Thank you for fixing my arm.
Pat DeFranco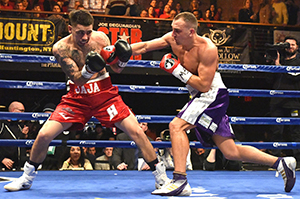 Dr. Paci did an amazing job fixing up my shoulder. I felt like a million bucks in just a few days. Great atmosphere and great work equals outstanding results. Thanks again for fixing me up so I can keep on throwing the HAMMA.
Cletus "The Hebrew Hammer" Seldin Undefeated Professional Boxer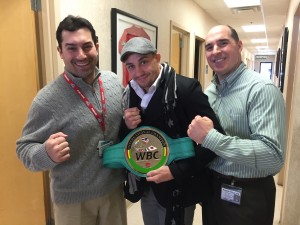 Dr. James Paci, MD, Cletus Seldin and Angelo Rizzi, PAC after another big win.
Cletus Seldin

Excellent Doctor and Surgeon. Did a fantastic job on Collarbone reconstruction, highly recommend if in need of an Ortho/Ortho Surgeon if on Long Island.

Bayport, NY

Dr Paci performed surgery on my daughter's knee. It was an ACL reconstruction along with meniscus repairs. He did a wonderful job on her surgery, and before and after surgery explained the process. Afterwards, she had some issues with the anesthesia, and he called me on the HIS cell phone to arrange the proper care for her. How many Dr's would call late at night to do that? My daughter is now playing D2 lacrosse and moving with confidence. Thanks Dr. Paci!

Kevin Culhane

I recently had my bicep tendon repaired by Dr. Paci. I found Dr. Paci to be competent, friendly and experienced with this procedure. He took the time to go over what to expect during surgery as well as the recovery. He also followed up with a call the evening after my procedure to see how I was recovering. I'd also like to mention that the staff at the hospital and office were both friendly and helpful.

Rick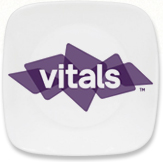 Dr Paci I s the third surgeon that I have seen since suffering a injury to my shoulder. Finally a Dr who understands that although he may have done thousands of shoulder surgeries, I only have two which I care for very much. He spent more it me with me than the other two Surgeons combined. He explained how injury causes the complications I have. He also explained my options. I highly recommend him and would certainly bring my own family members to be treated by him.

I first saw Dr Paci and his staff approx 1 1/2 year ago for a shoulder injury. Shortly after he performed surgery to repair some issues. Now 1 year later I returned to him for a knee injury. ACL needed to be repaired. I am now 2 weeks post op and have no complaints. Dr Paci is a gentleman. He has always taken whatever time needed to answer any questions I had. His staff is professional and courteous. Before finding Dr Paci I visited 2 other surgeons for my shoulder. Neither one made me feel comfortable. Although a Dr may have performed hundreds of shoulder procedures chances are for the patient it is their first. Dr Paci does not loose sight of that. He takes the time need for you to understand what happened to your body during the injury and what will happen during surgery. I would never hesitate to return or recommend Dr Paci to anyone in need of his services.
My son had a torn cartilage repair done by Dr Paci. He explained to us what the procedure entailed and what to expect post surgically. The surgery went well and the post op care is just as he described.
I developed a painful case of calcific tendinitis in my rotator cuff while on vacation. Saw Dr. Paci when I returned. His dx agreed with the ER doctor I had seen on vacation; he was empathic, thorough, informative and confident, explained my treatment options and what to expect. He gave me a cortisone shot and prescribed physical therapy.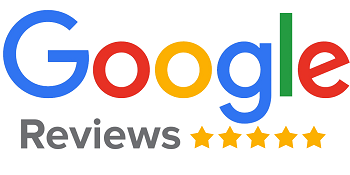 Dr Paci did a fantastic job repairing my daughter ACL., meniscus, and LCL. Took the time for explain and push my daughter when she needed to be pushed.

Nelson Jordan

Dr.Paci is the BEST !!! He rebuild my knee and the job he did was AMAZING !!! He knows what he is doing, very up front and honest...Great guy!!! Thank you Dr.Paci!!!

Amy Goldstein

I am a competitive athlete but hurt my shoulder a couple of years ago. It got better for a while but then went steadily downhill. Not only did he help with that shoulder- the surgery went well, and he found tearing in the labrum and other issues that went undiagnosed for a long time- but he also solved the mystery of why my ankles sprain so easily and why some of my other joints act mildly unstable.

Cher Armstrong

Dr Paci is top notch and rebuilt my sons knee

Karen Migdal

Highly knowledgeable with great bedside manner

Susan Miller

As a physical therapist, I can say that all of Dr Paci's post-operative patients that I had the pleasure of treating had excellent outcomes. I highly recommend him for the weekend warriors and H.S/college athletes.

Chad Smith
Submit Your Testimonial
If you're interested in submitting a testimonial for James M. Paci, MD please use the form below to do so.